Recording: Make Yourself Priority Free Zoom Event
Thank you all who joined me live on Friday 26th February for this Free live Zoom wellness session. I hope you have enjoyed the session.
For those who couldn't make it live or if you want to watch it again just click the image or button below.

We did some mindfulness, took care of our tight neck and shoulders and had fun with a note pad 😊 — watch the video to find out more.
Enjoy.

I did Pavol's self-care programme as I was at higher risk of coronavirus and weary of getting in-person treatments. I had developed severe shoulder and neck pain, probably from long hours of home-working. I was in serious pain, unable to sit for more than a 5-10 minutes at a time. Pavol was excellent at diagnosing the problem and giving me a variety of stretches and strengthening exercises. We had weekly online sessions, and by the third week, I was entirely pain free. Pavol altered the programme every week to add additional exercises, demonstrated all of them during the consultation sessions, and made sure that I was doing them correctly. I can't recommend him enough, and will definitely be booking for in-person treatments as soon as I'm able!
Brilliant online assessment & stretching exercises. Pavol was able to watch me as I followed him doing the stretches and help guide me through it all. It was as through I was in the clinic with him – doing the session through the internet was great and meant that I got my issues dealt with. Brilliant! Thanks Pavol.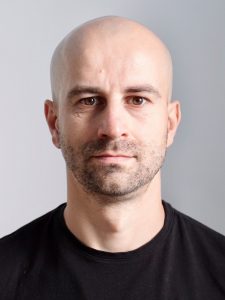 Putting you back in the driving seat of your recovery.
Pavol is the owner of Mobile Massage MK and The Jing Method Advanced Clinical massage therapist specialising in chronic musculoskeletal pain conditions; lower back pain, sciatica, neck and shoulder pain, frozen shoulder, migraines and headaches.
Pavol is using methods based on the biopsychosocial model of pain and modern neuroscience. 
Do you want to know how we can help you?
Book Free online consultation now or give us a call to chat with us about your condition.